Zu Ihrer Sicherheit und der weiteren Eindämmung des Coronavirus finden alle Veranstaltungen unter Einhaltung der gesetzlichen Vorschriften statt. Bitte beachten Sie die Hygienemaßnahmen vor Ort.
More details
Chris Norman und Band
Kurpark
Kurhausstraße 1
79189
Bad Krozingen
Event organiser:
Kur und Bäder GmbH Bad Krozingen, Herbert-Hellmann-Allee 12, 79189 Bad Krozingen, Deutschland
Event info
Chris Norman war gerade mal fünf Jahre alt, als der das erste Mal Bühnenluft schnupperte. Heute, über sechs Jahrzehnte später, verbringt der am 25. Oktober 1950 in Redcar/Yorkshire geborene Brite noch immer weite Teile des Jahres "on the road", um zwischendurch in sich zu gehen und sein Repertoire zu erweitern. Mit 12 Jahren machte er in der Schule Bekanntschaft mit Alan Silson und Terry Uttley – jenen Jungs, mit denen er später die Band Smokie gründen sollte. Im Sommer 1975, inzwischen komplettiert mit Pete Spencer, landeten Smokie mit "If You Think You Know To Love Me" ihren ersten Hit, womit Chris & Co. endgültig auf die Überholspur wechselten. Mit jedem Album setzte die Band ihre Erfolgsserie fort – allein "Midnight Café", "Bright Lights and Black Alleys" und "The Montreux Album" gingen hintereinander in die Top 10. Mit "Stumblin' in" landete Chris seinen ersten Hit außerhalb der Band.
Directions
Kurpark Bad Krozingen
Kurhausstr. 1
79189 Bad Krozingen
Germany
Plan route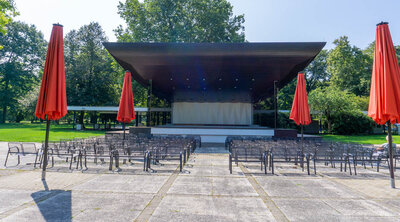 Terms and conditions
Wichtiger Hinweis
Folgende Kategorien stehen Ihnen zur Auswahl:

1. Stehplatz

2. Stehtische:
Es ist nur möglich einen kompletten Stehtisch für 4 Personen zu buchen bzw. in den Warenkorb zu legen.