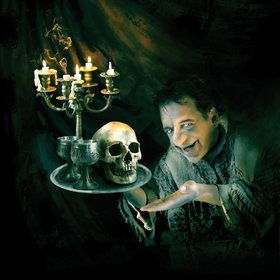 Erlebnis-Dinner mit Dracula, Dr. Frankenstein, Jack the Ripper und Co.
Schaurige Gestalten, ein packendes und humorvolles Theaterstück in fünf Akten sowie vorzügliches Essen – das alles erwartet Sie bei jedem Gruseldinner-Programm, von München bis Bremerhaven. Das erfolgreiche Konzept des Dinner-Theaters bringt Menschen zusammen, sorgt für Gänsehaut, beansprucht die Lachmuskeln und verwöhnt mit nationaler und internationaler Küche. Treffen Sie hautnah alte Bekannte aus den großen Gruselklassikern, während Sie ein spektakuläres Event-Dinner genießen!

Freuen Sie sich auf einen unterhaltsamen Abend, an dem eines von zahlreichen Grusel-Programmen zum Besten gegeben wird. Da darf das Frankensteinlabor mit dem berühmten Monster ebenso wenig fehlen wie die Gruft des blutdurstigen Graf Dracula. Auch die Geschichte des legendären Frauenmörders Jack The Ripper aus dem viktorianischen London hat es in sich, ganz zu schweigen von der Doppelgängergeschichte des seltsamen Falls des Dr. Jekyll und Mr. Hyde.

Unabhängig von der Wahl Ihres Lieblingsprogrammes ist eines immer garantiert: zu jeder spannenden Inszenierung dürfen Sie sich auf exzellente Küche freuen, die einem echten Dinner in jeder Hinsicht gerecht wird. Das Gruseldinner mit Dracula und Gesellen sorgt auf lustige Art und Weise für Gänsehaut, bei der selbst sanftere Gemüter ganz auf ihre Kosten kommen.
Source: Reservix